Main content starts here, tab to start navigating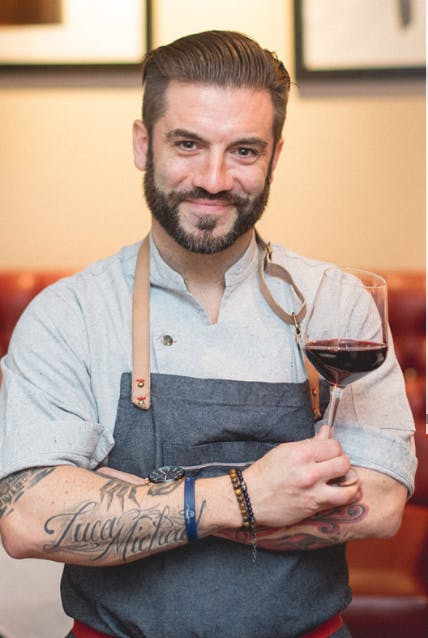 Ryan DePersio
Chef/Partner
At the age of 25, Ryan DePersio made a mark in the food world. His creative, family-owned, new Italian restaurant in Montclair, received three-star reviews in the first six months it was open. The New York Times graced Fascino with an "Excellent" rating and raved that Ryan was "born to run a restaurant."
In the Kitchen. Coming from a close-knit Italian family with a mom, Fascino pastry chef Cynthia DePersio who set high standards for home cooking, and grandmothers whose meals were legendary Ryan knew early on that cooking was what he wanted to do. After NY Restaurant School, Ryan worked at Bouley Bakery and Judson Grill, then traveled to Paris to work at the one-star Michelin restaurant, La Brasserie. Back in the states, Ryan's talent was recognized by Jean Georges Vongerichten, who hired him first at Vong and then promoted him to the four-star restaurant, Jean Georges. After two years there, he traveled to Florence and worked at the two-star Enoteca Pinchiorri.
Five Restaurants. In July 2003, Fascino's doors opened with Ryan and Cynthia in the kitchen and brother, Anthony, as GM. In January 2010, Ryan and his family opened a second restaurant, Bara Cara. In February 2012, Ryan consulted and opened Nico in The New Jersey Performing Arts Center in Newark, NJ. In June 2015, Ryan and associates opened Battello in Jersey City on the Hudson River with breathtaking views of the Manhattan skyline and featuring a contemporary Italian based seafood-influenced menu. Soon after in spring 2016, Ryan opened The Kitchen Step also in Jersey City, this time with a focus on modern American food tailored to feature the best flavors and ingredients from local markets. Ryan's talents and expert team have created a restaurant group that leads the way in modern food ideas enhanced by delightful neighborhood settings.
Ryan has been featured on the Today Show, Food Network, and Tony Tantillo's.